CMR Stress Imaging Course March 2017
London England
Mar 31 - Apr 1, 2017
This two day course offers dedicated, intense, individualised and hands-on training and case-based learning.
**Please Note Accomodations for both nights along with lunch and dinner are all included in fee.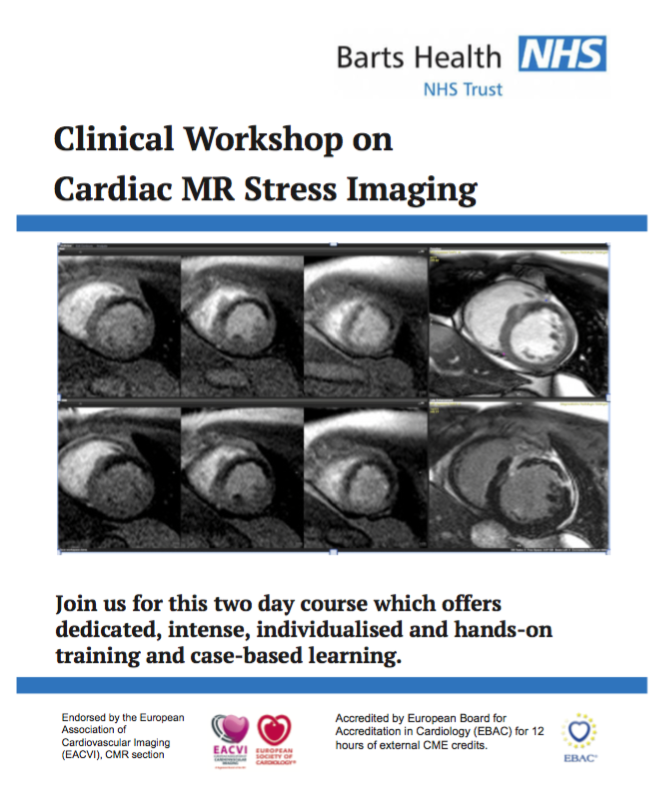 We are excited to use Whova as our event management solution.
Attendees please download the Award-winning Whova event app to access:
Interactive agenda
Logistics
Shared Documents
Event Announcements
Attendees Profiles
Attendee Interactions
Click here
to check all Whova's benefits.
Redha Boubertakh
Barts NHS Trust
Bio: Dr Redha Boubertakh is a clinical cardiac MRI Clinical Scientist at Barts Health NHS Trust and an Honorary Lecturer at the National Institute for National Health Research Cardiovas- cular Biomedical Research Unit at Barts (Barts Health NHS Trust and Queen Mary University of London). He trained in Algiers, Paris and London in electrical engineering and MRI image reconstruction techniques before joining Barts Health in 2008. He is an active member of the European CMR Exam Board since 2011 and an SCMR member. His main research interests are left atrial scar imaging and cardiac image motion analysis.
Bio: Steffen Petersen graduated in 1998 in Mainz in Germany. From 1998 until 2002 he worked as a Cardiology Registrar at the University Hospital Mainz with a major research interest in the field of Cardiovascular Magnetic Resonance. Supported by grants from the German Academic Exchange Service and the British Heart Foundation he joined the Cardiovascular MR group at the University of Oxford set up by Prof Stefan Neubauer (OCMR) and received his DPhil in 2005 entitled "Insights into cardiac remodelling by multi-modal magnetic resonance imaging and spectroscopy". He then finished his Cardiology training and continued his research interests as a clinical lecturer in the Department of Cardiovascular Medicine at the University of Oxford/John Radcliffe Hospital. He leads on the cardiac imaging of 100,000 subjects who participate in the large scale UK Biobank cohort and advises other large scale clinical trials and population based studies using cardiac imaging.
Dr Marc Miquel
Honorary Senior Lecturer, Queen Mary, University of London
Anna Herrey
Barts Health NHS Trust
Dr Mark Westwood
Barts Health NHS Trust
Dr. Filip Zemrak
Bart's Health NHS Trust
Dr Mohammed Khanji
Barts Health NHS Trust
Dr. Peter Kellman
International Faculty