Justice Reinvestment Summit 2017
Salem OR
Feb 16 - 17, 2017
Largest gathering of Oregon's Public Safety Stakeholders
The Justice Reinvestment Summit is an opportunity for criminal justice stakeholders to hear from local and national experts about successful and innovative strategies in criminal justice. This year's Summit will focus on a wide range of programs and solutions that address the four goals of justice reinvestment, including the intersection of mental health and criminal justice, trauma informed approaches, reentry and diversion programs, and more.
Summit hotel block is now full.
Challenges with Registration? Email Tiffany Quintero at tiffany.quintero@oregon.gov
We are excited to use Whova as our event management solution.
Attendees please download the Award-winning Whova event app to access:
Interactive agenda
Logistics
Shared Documents
Event Announcements
Attendees Profiles
Attendee Interactions
Click here
to check all Whova's benefits.
Chris Hoy
Chief Deputy, Clackamas County Sheriff's Office
Bio: Chief Deputy Chris Hoy joined the Clackamas County Sheriff's Office as a Captain in February 2008; before becoming Chief Deputy in November 2015, he served as the Community Corrections Director. Captain Hoy began his career with the Lincoln County Sheriff's Office in 1988, where he was a Records/Property Clerk, Corrections Deputy, Sergeant and Jail Commander. He left Lincoln County in 2003 to become the Jail Commander in Marion County, where he served until December 2007. Captain Hoy was the OSSA's Jail Commander of the Year in 2000, and has twice served as the President of the Oregon Sheriff's Jail Command Council and he has served as the President of the Oregon Association of Community Corrections Directors.. He holds Basic, Intermediate, Supervisory, Middle Management and Executive Certification in Corrections from DPSST. He graduated with a Bachelor of Science Degree in Political Science with an English minor from Willamette University in 1987. Chief Deputy Hoy oversees our Jail Division, Civil Division and Community Corrections Department.
Governor Kate Brown
Governor , State of Oregon
Bio: With more than 25 years of service to the people of Oregon, Kate Brown is well-prepared to serve as Oregon's 38th Governor, making government more accountable and standing up for working families. Some of her top achievements as governor include: • Working to create a seamless system of education from cradle to career to improve Oregon's high school graduation rate • Supporting Oregon's working families • Responsible environmental stewardship • Healthy and Safe Communities • Restoring public trust in state government by improving efficiency, transparency, and accountability From 2009 to 2015, Brown served as Oregon's Secretary of State, where she was a leader in increasing government transparency and accountability. In that office, Brown oversaw an Audits Division that identified millions in savings by increasing government efficiencies and rooting out waste. She streamlined business registration and licensing by implementing Business Xpress, an online 'one¬‐stop shop' that enables business owners and entrepreneurs to establish and run a business in Oregon without getting bumped around from state agency to state agency. Brown successfully implemented an online voter registration system, which made it easier for Oregonians to register to vote and saved taxpayer dollars. Oregon received national recognition for Brown's work utilizing technology to make it easier for active‐duty service members and people with disabilities to vote. Prior to serving as Secretary of State, Brown served for 17 years in the state legislature: five years in the Oregon House of Representatives and 12 years in the Oregon State Senate. In 2004, Brown made history when she became the first woman in Oregon history to serve as Senate Majority Leader, after being elected by her colleagues. During her time in the legislature, Kate Brown led efforts on government accountability and reform. In 2007, she successfully spearheaded legislation that The Oregonian called the "state's most sweeping package of ethics reforms in 34 years." And she led a bipartisan group of legislators to pass Oregon's most significant campaign finance reform law in a generation, making campaign contributions more transparent than ever before by creating an online database for campaign finance reporting.   As a leader who has always been on the side of working Oregon families, Brown successfully helped pass Family and Medical Leave, making Oregon one of the first states in the nation to allow parents to stay home with their sick children without fear of losing their jobs. She also put Oregon on the map as the first state to require insurance companies to cover annual breast exams for women over 18 as part of preventive health care screenings. Brown has also been a longtime leader in advancing civil rights and marriage equality. In 2007, she helped to pass the Oregon Equality Act, a civil rights law that prohibited discrimination in employment and housing on the basis of sexual orientation. And Brown was instrumental in passing Oregon's Family Fairness Act, which legally recognizes committed same-¬sex relationships as domestic partnerships. Prior to running for public office, Brown practiced family law. After joining the Legislature, Brown then practiced juvenile law, taught at Portland State University, worked with the Juvenile Rights Project and co-¬founded the Oregon Women's Health and Wellness Alliance, which has been leading efforts to support women's health for more than 20 years. Brown grew up in Minnesota and earned her undergraduate degree from the University of Colorado--Boulder. Kate came to Oregon to attend Lewis and Clark's Northwestern School of Law, where she received her law degree and Certificate in Environmental Law. With her husband Dan, Brown raised Dan's son and daughter, who are now grown, in Portland. When Brown is not busy at the Capitol in Salem, you'll find her horseback riding or hiking. In February of 2015, Brown and her husband moved into the official residence, Mahonia Hall.
D.A. John T. Chisholm
Milwaukie County, Wisconsin , Milwaukee County District Attorney
Bio: JOHN T. CHISHOLM is the District Attorney of Milwaukee County. His office handles criminal cases for the State of Wisconsin in the Milwaukee County Circuit Court. As District Attorney, John organizes his office to work closely with neighborhoods through his nationally recognized Community Prosecution program. He designed a Child Protection Advocacy Unit to better serve child victims, formed a Public Integrity Unit to focus on public corruption matters and a Witness Protection Unit to thwart attempts to intimidate victims and witnesses of crime. Specialized units focus on violent firearm and sexual assault offenders. He helped start the drug treatment court and participated in Milwaukee County's selection as a seed site for the National Institute of Corrections' Evidence Based Decision Making framework. John is a graduate of Marquette University and the University of Wisconsin Law School.
Justice Michael Boggs
Judge, Georgia Court of Appeals
Bio: Justice Michael P. Boggs was appointed to the Supreme Court of Georgia on December 7, 2016 by Governor Nathan Deal. Previously, Justice Boggs served as a Judge on the Court of Appeals of Georgia from January 2012 through 2016. He was re-elected state-wide without opposition to the Court of Appeals for a six-year term in 2012. Prior to his appellate judicial service, Justice Boggs served as a Superior Court Judge for the six-county Waycross Judicial Circuit having been elected to an open seat in 2004. He was re-elected without opposition in 2008. Justice Boggs was raised in Waycross and now lives in Pierce County with his wife Heather, a kindergarten teacher in the Ware County public school system. Justice Boggs obtained his undergraduate degree in Political Science and Psychology from Georgia Southern College in 1985. He earned his Juris Doctor degree from Mercer University's Walter F. George School of Law in 1990. While in law school, Justice Boggs was a member of the Moot Court Board and participated on the ABA Moot Court competition team. At Mercer, Justice Boggs was inducted into the Order of Barristers and was elected to the Student Government Association. Following his graduation from law school, Justice Boggs practiced property insurance defense litigation in Atlanta until 1992, when he returned to his hometown of Waycross. From 1992 to 2004, Justice Boggs maintained a general trial practice specializing in family law, real estate, banking, personal injury, and general civil litigation matters. Justice Boggs served as a County Attorney, Development Authority Counsel, and as a Special Assistant Attorney General. In 2000, Justice Boggs was elected as a State Representative to the General Assembly and represented Ware, Charlton and Clinch Counties until 2004. While in the Legislature, Justice Boggs served on the Judiciary, Public Safety and Government Affairs Committees. Among his legislative accomplishments, Justice Boggs authored the "Child Protection Act", a bill aimed at protecting children from sexual predators. In 2002, Justice Boggs was selected as the Outstanding Freshman Member of the General Assembly by the Legislative Alumni Association and was also recognized by the Editors of Georgia Trend Magazine as one of the "40 under 40" leaders throughout Georgia who have made significant contributions to the state. He was a member of the 2009 Class of Leadership Georgia. In 2003, Justice Boggs received the Waycross YMCA Community Service Award and the "Legislative Award" from the Association of County Commissioners of Georgia. In 2004, he received the University System of Georgia Foundation Regents Award for Excellence in Education in recognition of his outstanding accomplishments as a lawyer and legislator. Justice Boggs is also a recipient of the Georgia Sheriff's Association "Leadership Award" and was awarded the Georgia District Attorney's Association "Commitment to Justice Award" for his support of law enforcement and victim's rights legislation. In 2007, he received recognition for his support of the Magnolia House Shelter for abused women and child victims of domestic violence in Waycross and was presented the Boy Scouts of America "Golden Eagle" Award for his service to the community and his support of Scouting. An ardent supporter of accountability courts, Justice Boggs founded the Waycross Judicial Circuit Drug Court Program, served as its Presiding Judge, and served as a member of the Judicial Council of Georgia's Standing Committee on Accountability Courts. Justice Boggs has served as a member of the Governor's Judicial Nominating Commission, and serves on the Foundation Board of Trustees at South Georgia State College in Waycross, where he previously served as a part-time adjunct professor. In 2011, Justice Boggs served as a member of Georgia's Special Council on Criminal Justice Reform and was appointed by Governor Nathan Deal to serve as Co-Chair of the Criminal Justice Reform Council each year from 2012 to the present. Justice Boggs is also a member of the Board of Directors of the Council of State Governments Justice Center and serves on the Boards Executive Committee. He also serves on the Supreme Court of Georgia Committee on Justice for Children, and The National Center for State Courts Judicial Peer Group, and National Task Force on Fines, Fees and Bail Practices. Justice Boggs is a member of the Lawyers Club of Atlanta and the Atlanta Bar Association.
Lt. Jerry Mott
Lieutenant, Dallas Police Department
Bio: Lt. Jerry Mott of the Dallas Police Department began his law enforcement career in 1997 as a Cadet for the Oregon State Police. During his law enforcement career he has worked in juvenile and adult corrections as well as police services. He has worked for state, county and municipal law enforcement agencies. Lt. Mott holds an Executive Police Certificate from the Oregon Department of Public Safety Standards and Training. He has an Associate of Applied Science degree in Law Enforcement from Chemeketa Community College. He is a current student and has nearly completed a Bachelor of Science degree through Eastern Oregon University.
Alex Bassos
Director of Training and Outreach, Metropolitan Public Defender
Bio: Alex Bassos is the Director of Training and Outreach at Metropolitan Public Defender. As part of his duties, he runs the new Community Law Division, which houses MPD's anti-poverty legal programs, community engagement initiatives and holistic defense projects. Alex has been practicing public defense since he graduated from Indiana University Law School in 1995. Among other things, he is the Treasurer/Secretary of the National Association for Public Defense, an adjunct professor of law at Lewis and Clark Law School and the author of a book on representing clients with mental illness.
Amanda Monaco
Trafficking Intervention Coordinator, Oregon Department of Justice Crime Services Division
Bio: Amanda Monaco is the statewide Trafficking Intervention Coordinator with the Oregon Department of Justice. She has 8 years of experience working in direct service with victims of sex trafficking and is the chair of the Trafficking Intervention Advisory Committee for Oregon. She continues to work directly with community partners such as local and federal law enforcement, the DA and AUSA's office, DHS, homeless youth programs, child abuse centers, advocates, and many other organizations in an effort to build a coordinated and collaborative response for victims and survivors of commercial sexual exploitation, sex trafficking, and labor trafficking in each county throughout the state.
Angela Hawken
Professor of Public Policy, NYU Marron Institute of Urban Management
Bio: Angela Hawken is a Professor of Public Policy at the NYU Marron Institute of Urban Management and founder and director of the Litmus program, which promotes innovation in the public sector. Litmus includes BetaGov, Segregation Solutions, and the Swift Certain Fair Resource Center. BetaGov is a resource center for practitioner-led randomized controlled trials, supporting hundreds of trials in criminal justice, education, health, and social services. Segregation Solutions supports stakeholder-led innovation and research in reducing the use of solitary confinement. The SCF Center supports strategies in community supervision to reduce recidivism and incarceration. Dr. Hawken is widely published in criminal justice, drug policy, and corruption. She completed an honors degree in economics at the University of the Witwatersrand and a Ph.D. in policy analysis at the RAND Graduate School.
Bill Hall
Commissioner, Lincoln County and President of Association of Oregon Counties (AOC)
Bio: Bill Hall was elected as a County Commissioner in 2004 and re-elected in 2008, 2012 and 2016. He was born September 27, 1959 in Portland, Oregon and attended public school there, graduating from John Adams High School in 1977. Mr. Hall completed his undergraduate work at Pacific University, Forest Grove, Oregon, earning a B.A. in Communications in 1981. He received his M.S. from the Medill School of Journalism at Northwestern University in 1986. His professional experience prior to his election as a commissioner includes staff positions at KBPS public radio in Portland; the Newport News-Times; KZUS radio, Toledo; and Yaquina Bay Communications, Newport. As a commissioner, Mr. Hall represents the county on several local, regional and state organizations. He is the president of the Association of Oregon Counties. He has been a member of that association's Human Services Steering Committee for the past decade and chaired that committee for four years. He also serves on AOC's Veterans Services Committee, the National Association of Counties' Military and Veterans Committee, and NACO's Health Policy Committee. He served on the Governor's Council on Alcohol and Drug Programs and was its final chair. He was co-chair of the Oregon Ending Homelessness Advisory Council. He co-chairs the Linn-Benton-Lincoln Early Learning HUB and is a member of the board of the IHN-CCO, the Coordinated Care organization for the three-county region. He is a member of the executive committee of the Community Services Consortium, the regional Community Action Agency; he is the county's representative on the board of the Cascades West Council of Governments and is currently the treasurer of that board. He is the county commission liaison to the Local Public Safety Coordinating Council. His previous committee roles included ODOT's Public Transit Advisory Committee, the regional Workforce Investment Board and county liaison to the Lincoln County Commission on Children and Families and the Central Oregon Coast Association. In 2008, Mr. Hall's local, state and national leadership on homeless issues was honored with the "Home for Every American Award" presented by the U.S. Interagency Council on Homelessness at a conference in Washington. D.C. He was one of two county officials to receive the award. In 2009, he received the "Award for Excellence" from the Association of Oregon Community Mental Health Programs for his advocacy for mental health, addictions and developmental disabilities programs in the state. Also in 2009, he received the annual Certificate of Appreciation from the Coastal Progressives, a member group of the Rural Organizing Project. In 2006, Mr. Hall graduated from the County College program sponsored by the Oregon Association of Counties and the Oregon State University Extension Service. In 2007, he completed the Ford Family Foundation's Leadership Program (Waldport-Yachats class). In 2014, he was part of the first graduating class of the in the Oregon County Leadership Institute, co-sponsored by AOC and the Hatfield School of Government at Portland State University, and in 2016, he completed NACO's leadership training. Mr. Hall has been active in a variety of community affairs. He has served on the boards of directors of several non-profit organizations. His current board memberships include; Neighborhood Partnerships, a statewide organization addressing poverty, homelessness and housing issues; the Lincoln Community Land Trust board, which he chairs; PAADA, the Partnership Against Drug and Alcohol Abuse; and the Samaritan House Family Homeless Shelter. He is a member of the North Coast Leadership Council for the Oregon Community Foundation, the state's largest private foundation. His previous board memberships included the My Sisters' Place domestic violence shelter, the Lincoln County Council on Alcohol and Other Drug Abuse, Thugz off Drugz recovery housing and Firebare, Inc., the parent organization for KYAQ community radio. Mr. Hall is a member of the First Presbyterian Church, Newport, serving on the Session (board of elders) from 1990-93 and again from 2004 to 2008. He was a member of the Toledo Rotary club from 2005 to 2008. Mr. Hall lives in Newport.
Brian Meyer
Interim Associate Chief, Mental Health Services/Supervisory Psychologist, H.H. McGuire VA Medical Center
Bio: Brian L. Meyer, Ph.D., is a Clinical Psychologist and the Post-Traumatic Stress Disorder/Substance Abuse Specialist at the H.H. McGuire Veterans Administration Medical Center and an Assistant Professor in the Department of Psychiatry at Virginia Commonwealth University. He obtained his A.B. from Harvard University and his Ph.D. in clinical psychology from Duke University. Dr. Meyer has worked in the child welfare and the child and adult mental health fields as a clinician, administrator, teacher, policy maker, program developer, expert witness, researcher, and trainer. Throughout his career, Dr. Meyer has worked with people who have experienced trauma, and his clinical expertise is in treating trauma and its co-morbid disorders. In his current roles, Dr. Meyer provides evidence-based treatments for veterans who have problems with PTSD, substance abuse, depression, TBI, and other co-occurring conditions; works with veterans and their families to address post-combat adaptations; supervises psychology trainees; and conducts research on treatments for veterans with PTSD. Dr. Meyer is a nationally-known speaker on a wide range of content areas including the treatment of trauma and co-morbid conditions, complex trauma, the effects of trauma on families, veterans' mental health, mindfulness meditation, and collaborative courts.
Carol Poole
Senior Policy Advisor, National Criminal Justice Association
Bio: Carol C. Poole currently serves as a Senior Policy Adviser in the area of Pretrial Justice for the National Criminal Justice Association, Washington, DC. On behalf of NCJA, she also has provided technical assistance on statewide criminal justice strategic planning to the State Administering Agencies (SAAs) of Nevada, Mississippi, North Carolina, West Virginia, California, Texas, and the Northern Mariana Islands. Until 2010, Carol served as the Acting Deputy Director, Programs Office, at the Bureau of Justice Assistance (BJA). The Programs Office administers all of BJA's state and local grant programs - 11,000 grants valued at $5.5 billion during Carol's tenure. BJA Programs staff is BJA's direct line of communication with (SAAs), county and local governments, territories, and tribal governments. While working at BJA, Carol represented the Department of Justice on a White House sponsored "town hall" tour with President Barrack Obama's Director of Recovery for Auto Communities and Workers. She utilized numerous management techniques to improve morale and team work throughout the Programs Office and BJA to enhance service to the field. In addition, Carol received two distinctive awards – the Attorney General's Award for Distinguished Service, as part of the Office of Justice Programs' American Reinvestment and Recovery Act Team, in 2010, and the United States Department of Justice Assistant Attorney General's Award for Outstanding Contributions to the Mission and Goals of the Office of Justice Programs in 2009. Prior to joining BJA in February 2007, Carol was Acting Director of the Colorado Division of Criminal Justice (DCJ), providing leadership to critical aspects of Colorado's criminal and juvenile justice systems. As DCJ's Deputy Director, she received the 2001 Manager of the Year Award, in Recognition of Outstanding Leadership, High Ethical and Professional Standards, Vision and Commitment to further the Work of the Division of Criminal Justice. Before coming to DCJ, Carol supervised both the Victim Assistance and Juvenile Diversion Programs at the Weld County, Colorado, District Attorney's Office, worked six years for the Community Service Society of New York, and established the LEAA-funded North Shore Anti-Crime Program on Staten Island. Ms. Poole holds a Bachelors Degree in Psychology from William Jewell College, a Masters Degree in Education, and completed graduate hours in business management at Louisiana State University.
Christopher Campbell
Assistant Professor of Criminology & Criminal Justice, Portland State University
Bio: Christopher M. Campbell, Ph.D. is an Assistant Professor for the Department of Criminology and Criminal Justice at Portland State University. He earned his doctorate in Criminal Justice and Criminology from Washington State University with an emphasis on community supervision outcomes. At Portland State University, Dr. Campbell teaches courses on research methods, juvenile delinquency, offender rehabilitation, and community-based treatment. His research emphasizes the use of mixed (quantitative and qualitative) methods in evaluation and explanatory research related to evidence-based practices. Dr. Campbell's most recent work has focused on the causes of crime, identifying risk factors for recidivism in community corrections, and examining client perceptions toward public defenders. Broadly, his work investigates the how mechanisms of procedural justice intersects with other processes of "what works" in various criminal justice areas. Dr. Campbell's work can be found in journals such as Criminal Justice and Behavior, Behavioral Sciences and the Law, and most recently Criminology and Public Policy.
Debbie Hust
Lieutenant, Malheur County Parole and Probation
Bio: Debbie Hust is a 19 year veteran of the Malheur County Sheriff's Office. Debbie began her career working in the jail and served 7 years before being assigned to work court security in 2005. In 2006 she accepted the position of Assistant Director at Community Corrections and was promoted to Commander in 2007. Lt. Hust holds a Management Certificate in both Parole and Probation and Corrections from the Department of Safety Standards and Training and has attended the Oregon State Sheriff's Association Command College. During her years in the jail she was a Jail Inspector and was deeply involved in the writing of new policy and procedures for the jail to comply with Oregon Jail Standards. Since 2007 Lt. Hust has focused on the creation and implementation of in-house division policy for Parole and Probation including policy to comply with the Prison Rape Elimination Act for Community Corrections. Lt. Hust is a strong supporter of the Jail Diversion Program and has become one of its strongest advocates in rural Malheur County since the program was implemented approximately two years ago. Lt. Hust lives with her husband of 35 years on a small cattle ranch in Idaho and after raising 4 children spends her leisure time with her 'fur kids' including a 9 year old zebra that goes by the name of "Spot".
Emily Salisbury
Associate Professor, Criminal Justice, University of Nevada, Las Vegas
Bio: Emily J. Salisbury, Ph.D. is an Associate Professor of Criminal Justice at the University of Nevada, Las Vegas. She also serves as Editor-in-Chief of Criminal Justice and Behavior, the official academic research journal of the International Association for Correctional and Forensic Psychology. Criminal Justice and Behavior is the leading publication source for research on evidence-based correctional practices among offender populations. She is also co-author of the book, Correctional Counseling and Rehabilitation, currently in its 9th edition at Routledge Publishing. Dr. Salisbury's primary research interests include correctional policy, assessment, and treatment intervention strategies, with a particular focus on justice involved women and gender-responsive policy. Her research publications have appeared in several top academic journals and edited volumes. While attending the University of Cincinnati, where she earned her Ph.D., Dr. Salisbury was the project director of two research sites that developed and validated the Women's Risk Needs Assessment (WRNA) instruments in a cooperative agreement with the National Institute of Corrections. The WRNA correctional assessments are specifically designed to focus on the criminogenic needs of justice-involved women, and has been implemented in over 25 international and domestic jurisdictions, including statewide in Oregon.
Karen Joplin
Commissioner District 1, Hood River County
Bio: Commissioner Karen Joplin has lived in the Hood River Valley since 1975 and is serving her 7th year as Hood River County Commissioner for District 1. She holds a Masters degree in Public Administration from Portland State University and is a 2012 graduate of the Luke Center for Catalytic Leadership, Pacific Program as well as a 2015 graduate of the Policy Research Associates, Behavioral Health and Justice Leadership Academy. Karen currently is a Governor appointed member of the Oregon State Health Policy Board and is Board Chair of the regional CMHP, Mid-Columbia Center for Living as well as the Board Chair for the Columbia Gorge Health Council, the regional CCO Medicaid governance body. She is an active member of the National Association of Counties Public Safety Steering Committee and a member of the Hood River County LPSCC. Karen has led projects with Oregon Solutions as well as completed a four county sequential intercept mapping initiative with the National Institute of Corrections and continues the support necessary to institute evidence based programming around justice involved individuals and other vulnerable populations through participating in the Stepping Up Initiative and the White House Office of Science and Technology, Data Driven Justice Initiative as well as the Laura and John Arnold Foundation Frequent Utilizer Project.
Kathy Hoppe
Vice President of Treatment Services, Preferred Family Healthcare
Bio: Kathy Hoppe began her career in the behavioral health field in 1992, after graduating from the University of Missouri – Columbia. Since joining Preferred Family Healthcare she has served in multiple roles currently serving as Vice President Treatment Services. She maintains credentials of Certified Reciprocal Alcohol and Drug Counselor, Certified Co-Occurring Disorders Professional and Medication Assisted Treatment Specialist. Kathy provides oversight and development for ADA programs in the Central Region and Virtual programing which includes Preferred Family Healthcare's Portal and Technology Assisted Services. Kathy is active in local and state organizations to promote and enhance behavioral health initiatives in the state of Missouri as well as multiple community organizations.
Kelly Officer
Senior Analyst, Oregon Criminal Justice Commission
Bio: Kelly Officer has been a research analyst at the Oregon Criminal Justice Commission since 2010. Her research focuses on statistical analysis and program evaluation. Kelly has worked on risk assessment modeling, drug court outcome evaluations, and justice reinvestment performance measures. Kelly's background is in statistical analysis, and before joining the CJC she was a statistician at a marketing research company. Kelly has a B.S. in mathematics from Western Oregon University and an M.S. in statistics from Oregon State University.
Khalil Cumberbatch
Manager of Trainings, JustLeadershipUSA
Bio: Khalil A. Cumberbatch is a formerly incarcerated advocate for social justice movements within the NYC area. He has worked within the reentry community in NYC since 2010 when he was released after serving almost seven years in the NYS prison system. Since his release, Khalil has worked with various non-profits as a service provider, policy analyst, advisor, board member, collaborator, and consultant. Khalil graduated from CUNY Herbert Lehman College's MSW program in May 2014 where he was awarded the Urban Justice Award for his work with underserved and marginalized communities that are negatively impacted by mass incarceration as well as high poverty and unemployment rates, lack of access to quality education, and other ineffective social "safety nets." Khalil currently serves as Manager of Training at JustLeadershipUSA, a national nonprofit dedicated to cutting the US correctional population in half by year 2030. Khalil is also a lecturer at Columbia University School of Social Work, the nation's oldest school of social work, with roots extending back to 1898. Khalil has served as Policy Associate for the Legal Action Center, the only non-profit law-and-policy organization in the United States whose sole mission is to fight discrimination against people with histories of addiction, HIV/AIDS, or criminal records, and to advocate for sound public policies in these areas. Khalil has also served as the Communications and Development Manager and periodic guest host for On The Count: The Prison and Criminal Justice Report, a radio program that is exclusively hosted and produced by formerly incarcerated individuals. After being detained in the immigration detention system for five months in 2014, Khalil has included in the scope of his efforts the perpetual punishment from harsh immigration policies for non-citizens who have criminal justice involvement. Included in this work, he served as the Strategic Initiatives Consultant at Immigrant Defense Project, a legal impact-litigation non-profit that promotes fundamental fairness for immigrants accused or convicted of crimes by working to transform unjust deportation laws and policies and educating and advising immigrants, their criminal defenders, and other advocates. In December 2014, Khalil was one of two recipients to receive an Executive Pardon from NYS Governor Andrew Cuomo to prevent his deportation from the United States. Also, Khalil was selected from over 110 applicants as one of 20 leaders in JustLeadershipUSA's 2015 Inaugural Leading with Conviction Development Program.
Kris Nyrop
LEAD National Support Director , Public Defenders Association King County, WA
Bio: Kris Nyrop is the LEAD National Support Director at the Public Defender Association in Seattle and has worked on the LEAD project since 2009. He was the Executive Director of Street Outreach Services in Seattle from 1997-2007. Prior to that he worked for the Washington State Department of Health, Public Health - Seattle & King County, and the Alcohol and Drug Abuse Institute at the University of Washington. He was a project ethnographer for the Vancouver Injection Drug User Study from 1997 to 1999. He has worked as an outreach worker, researcher, and trainer in the areas of HIV/AIDS prevention, hepatitis C prevention, syringe exchange, harm reduction, and drug policy reform. Additionally, he has consulted with projects throughout the U.S. as well as in Canada, Russia, and the Republic of Georgia.
Lorie Brisbin
Correctional Program Specialist, National Institute of Corrections
Bio: Lorie Brisbin is a Correctional Program Specialist in the Community Services Division of the National Institute of Corrections (NIC). She has been recognized as an authority in the area of sexual violence in correctional settings and has expertise in both offender and victim perspectives. Lorie is currently managing the LGBTI Offender Project and the Post-Conviction Victim Service Providers Initiative at NIC along with other programs and projects. She is committed to identifying and providing the best resources possible to underserved areas of corrections. In 2012, Lorie received a Distinguished Service Award from the U.S. Attorney General for her participation on the PREA (Prison Rape Elimination Act) Standards Working Group. Prior to coming to NIC in 2010, she was employed by the Idaho Department of Correction for ten years, serving as a probation/parole officer, statewide Parole Coordinator, Transitions Coordinator, PREA Program Coordinator and as an investigator in the Office of Professional Standards (internal affairs).
Marshall Clement
Division Director, State Initiatives & Justice Reinvestment, Council of State Governments Justice Center
Bio: Marshall Clement directs the CSG Justice Center's State Initiatives Division, including the Justice Reinvestment Program, which assists policymakers seeking to reduce spending on corrections and reinvest savings in strategies to reduce recidivism and increase public safety. As part of this assistance, Marshall coordinates the work of a team of policy analysts and national experts to analyze corrections data and policy and develop policy options for state policymakers. He regularly facilitates meetings among judicial and state agency officials, and testifies before legislative committees in various states across the country. His findings have been used to inform policy initiatives in over a dozen states that have enjoyed overwhelming bipartisan support.
Maureen Hillhouse
Associate Director, BetaGov
Bio: Maureen Hillhouse, PhD, is the Associate Director of BetaGov- an initiative housed at New York University as part of the Litmus program that works to encourage and support the testing of innovation in the public sector. As a research psychologist, Dr. Hillhouse began her career at the University of California Los Angeles leading behavioral and medical treatment trials in the area of substance abuse. She was responsible for disseminating the findings of these trials, including over 100 presentations at professional conferences, and 55 publications in peer-reviewed professional journals. Dr. Hillhouse also served for seven years on the UCLA Institutional Review Board. Dr. Hillhouse also contributes to the efforts of other initiatives within the Litmus group, including the Swift Certain Fair Resource Center, and Segregation Solutions.
Michael Schmidt
Executive Director, Oregon Criminal Justice Commission
Bio: Mike Schmidt came to the CJC directly from his previous role as a prosecutor in Multnomah County. He worked for the Multnomah District Attorney starting in 2007 where he began in misdemeanors, moved on to property crimes, and was specially assigned to drug courts and the restitution project. Mike was counsel for the House and Senate judiciary committees during the 2013 session. He graduated from Lewis and Clark Law School in 2008, and before that taught high school social studies in New Orleans for two years after graduating from Vassar College. Mike was appointed to be the Executive Director of the CJC at the beginning of 2015. As the Executive Director he is responsible for overseeing all aspects of the agency's program areas as well as working closely with the Governor and Legislature on matters of public safety policy.
Nastassia Walsh
Program Manager, County Solutions and Innovation, National Association of Counties
Bio: Nastassia Walsh is Program Manager for County Solutions and Innovations at the National Association of Counties. In this role, Nastassia is primarily responsible for managing Stepping Up: A National Initiative to Reduce Mental Illness in Jails. She is also the author of Reducing Mental Illness in Rural Jails. Prior to joining NACo, Nastassia was a senior policy analyst at the Council of State Governments Justice Center where she provided training and technical assistance to state and local criminal and juvenile justice agencies to develop programs for people returning to their communities from jails and prisons. She also spent 6 years at the non-profit Justice Policy Institute researching local, state, and federal criminal and juvenile justice policies. She has a master's degree in forensic psychology from Marymount University and a bachelor's degree in psychology from Arizona State University.
Ron Gordon
Executive Director, Commission on Criminal and Juvenile Justice
Bio: Ron Gordon is the Executive Director of the Commission on Criminal and Juvenile Justice, having been appointed to that position by Governor Jon M. Huntsman, Jr. in February 2009 and retained in that position by Governor Gary R. Herbert in August 2009. In that capacity, he oversees a 21-member commission charged with coordinating criminal and juvenile justice policy throughout Utah. He works closely with executive branch agencies, the Legislature, Judiciary and local governments as well as private entities in policy development. Mr. Gordon also serves as a member of Governor Herbert's senior staff and as the criminal justice policy advisor to Governor Herbert. He also has the privilege of assisting Governor Herbert with judicial appointments. Prior to his appointment to this position, Mr. Gordon served as the Director of the Office of Crime Victim Reparations, Coordinator of the Criminal Justice Advisory Council in Salt Lake County, Director of the Utah Sentencing Commission and staff attorney to the Commission on Criminal and Juvenile Justice. He received his Bachelor of Science from Brigham Young University in 1995 and his Juris Doctor from the University of Utah in 1998.
Ryan Labrecque
Ph.D., Portland State University
Bio: Dr. Labrecque earned his Ph.D. in Criminal Justice from the University of Cincinnati in 2015. Prior to undertaking his doctoral studies, Ryan was a Probation and Parole Officer in Portland, Maine. While at the University of Cincinnati, he worked on several federal and state funded research projects for the Center for Criminal Justice Research Corrections Institute. Dr. Labrecque's research interests focus on the evaluation of correctional interventions, the effects of prison life, the development of risk and needs assessments for community and institutional correctional settings, and the transfer of knowledge to practitioners and policy makers. Ryan received a 2014 Graduate Research Fellowship award from the National Institute of Justice for his dissertation The effect of solitary confinement on institutional misconduct: A longitudinal evaluation. He has also been awarded several research grants from the University of Cincinnati and he was the 2013 recipient of the American Society of Criminology, Division of Corrections and Sentencing, student paper award. Dr. Labrecque has a number of published journal articles, book chapters, and conference presentations on these topics.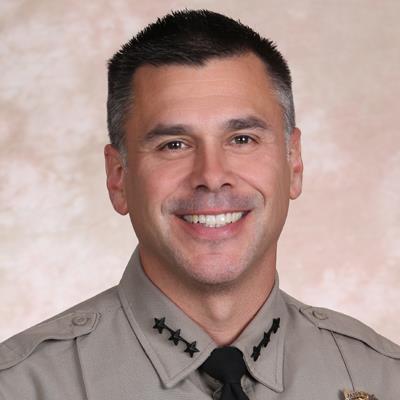 Jason Myers
Sheriff, Marion County Sheriff's Office
Bio: Jason Myers is a native Oregonian. He is a graduate of Salem's McKay High School and Chemeketa Community College, where he earned an Associates of Science Degree in Law Enforcement. His career in Law Enforcement began at the age of 18 when he was hired by the Marion County Sheriff's Office as a Park Cadet. After serving during the summers as a Cadet, he joined the Marion County Reserve Deputy Program. In September of 1990, he was hired as a full-time Deputy Sheriff and during his career, he served in every rank of the Office. In 2009, he became Sheriff. Sheriff Myers holds an Executive Police Certificate from the Oregon Department of Public Safety Standards and Training. He is an active member of the Oregon State Sheriffs' Association and serves on many community boards. He lives on a small farm outside of Stayton with his wife and their two sons. He and his family enjoy outdoor activities such as camping, hunting, fishing and quad riding.
TImothy Condon
Ph.D. Research Professor, Center on Alcoholism, Substance Abuse and Addiction, University of New Mexico, Albuquerque, NM
Bio: Dr. Timothy Condon currently is a research professor at the Center on Alcoholism, Substance Abuse, and Addictions at the University of New Mexico. He is currently conducting research on substance abuse treatments with criminal justice populations. Prior to joining CASAA, Dr. Condon served in the White House Office of National Drug Control Policy (ONDCP) as the science policy advisor within the Office of the Director. He worked on a variety of Demand Reduction activities including healthcare reform and substance use disorders (SUD), health care reform and criminal justice populations, intersection of public health and public safety related to SUD, prescription drug abuse, and other aspects of the National Drug Control Strategy. He co-authored the 2011 Prescription Drug Action Plan released by the Obama Administration. He continues to serve as a science policy advisor to ONDCP. Before joining ONDCP, Dr. Condon was appointed deputy director of the National Institute on Drug Abuse (NIDA) in 2003. While serving as the NIDA deputy director, Dr. Condon provided leadership in developing, implementing, and managing NIDA's research programs and strategic priorities. His approach, which links a lifetime of work in neuroscience with a strong translational emphasis, guided the Institute in building up its research training infrastructure, bringing science-based findings to community treatment programs, and establishing a national communications network for information sharing and research collaboration. Dr. Condon initiated enduring partnerships with multiple stakeholder groups, including other federal agencies, the criminal justice system, and the treatment and prevention practitioner communities with whom he has been particularly effective in advancing the real-world use of evidence-based interventions. Dr. Condon continues to interact with audiences around the country to communicate knowledge about the fundamental aspects of drug abuse––from emerging trends to how drugs work in the brain and body to promising treatment and prevention approaches. Through his active outreach in advancing the science of addiction, Dr. Condon continues to create needed change in how drug abuse addiction is perceived and treated in this country and internationally, erasing damaging stigma, and ushering in a new health paradigm which accurately views addiction as a treatable disease. Since 1992, Dr. Condon has held a number of prominent science policy positions, including an appointment in 1996 as NIDA's first associate director for Science Policy, as well as director of the Office of Science Policy and Communications. His various roles have allowed him to cover the landscape of the Institute's science planning, policy, congressional, and communications activities, even leading NIDA's research training and science education programs. Before coming to NIDA, Dr. Condon served in several senior positions managing research and service programs at the former Alcohol, Drug Abuse, and Mental Health Administration and directing emerging neuroscience technology assessment for the U.S. Congress, Office of Technology Assessment. Dr. Condon received his bachelor's degree in biology and psychology from Boston College and completed his master's and Ph.D. in neuroscience at the Department of Physiology, College of Medicine, Ohio State University. His postdoctoral training was in neuroendocrinology and neurophysiology at the Brain Research Institute, UCLA, and the Oregon Health Sciences University. Dr. Condon is the author of numerous scientific and science policy reports and articles for science journals and health publications. He has served on a number of Federal Task Forces and Committees, received multiple awards and honors for his leadership in setting science policy standards, and serves as a member of several professional organizations. Dr. Condon currently co-chairs the Criminal Justice/Law Enforcement subcommittee of the Bernalillo. Dr. Condon joined the faculty of The National Judicial College in 2009.
Angela Plunkett
Treatment Court Coordinator, Office of State Courts Administrator Missouri
Bio: Angie Plunkett is the Treatment Court Coordinator for the Missouri Office of State Courts Administrator (OSCA), managing 141 treatment court programs statewide. Angie served as a Missouri Probation and Parole Officer for 14 years before she began working as the Drug Court Administrator in 2005 launching 5 rural drug court programs. Angie also worked as a legislative assistant for the Missouri Senate, serving as staff to the Senate committee on Veterans Affairs and Pensions.
Kris Henning
Ph.D., Portland State University
Bio: Dr. Kris R. Henning is a Professor and the Chair of Criminology and Criminal Justice at Portland State University. He earned his Ph.D. in Clinical Psychology from the University of Vermont in 1995. Dr. Henning has extensive experience with applied research and consults regularly with criminal justice organizations on crime analysis, risk assessment, and various aspects of policing. This includes service as an investigator on federally sponsored collaborations including NIJ's Strategic Approaches to Community Safety Initiative in Memphis, Project Safe Neighborhoods with the U.S. Attorney's Office in Oregon, and currently he is the Principal Research Investigator for Portland's Neighborhood Involvement Location project funded through BJA's Smart Policing Initiative.